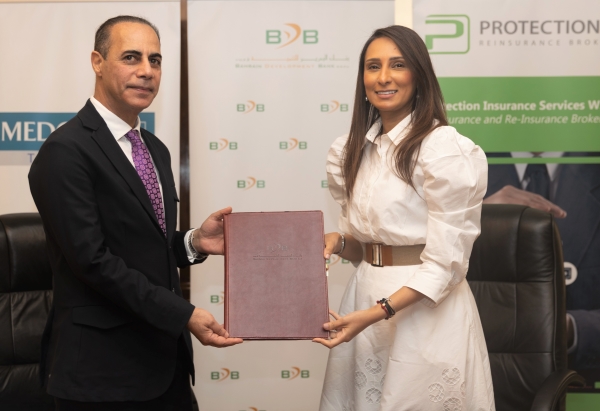 Bahrain Development Bank (BDB) has signed an agreement to provide health and life insurance services to its employees in partnership with Medgulf Takaful and Protection Insurance Services. This partnership comes in line with BDB's mission in ensuring to provide a healthy environment and the best insurance benefits to its employees.
The agreement was signed at the headquarters of Bahrain Development Bank by Mrs. Dalal Al Qais, Chief Executive Officer of BDB and Mr. Nader Mandeel, Chief Executive Officer of Medgulf Takaful, in the presence of Mr. Mohamed Rahimi, Mr. Ali Al Najar from Medgulf Takaful, Mr. Samy Aziz, Director and Ms. Maryam Ibrahim, Supervisor Employee Benefits from Protection Insurance Services. Commenting on this, Mrs. Dalal Al Qais, Chief Executive Officer of BDB, said: "We are pleased to establish this collaboration as we look forward to providing the best health insurance services and benefits for our employees that comes in line with the Bank's policy towards caring of its employees and working to provide advanced health insurance services with more benefits. In addition, this collaboration will allow us to offer our employees with health awareness and preventive programs, in a way that contributes to a healthy, safe and productive workplace environment.
Al Qais also stressed that this reflects the Bank's strategy related to developing its human resources and stimulating a healthy and motivating workplace environment by adopting a comprehensive development policy and offering highly efficient programs and services in various aspects of human resources, especially since the Bank has made great progress in the transformation process where the human resources are the core pillar and effective element to achieve positive results.
From his end Mr. Nader Mandeel, Chief Executive Officer of Medgulf Takaful, said: "Medgulf Takaful is also pleased to provide health and life insurance services and an improved benefits and coverage services provided to the Bank's employees and their families, reflecting the vision and objectives of the Bank that are in line with the efficiency and quality standards of the insurance services provided by Medgulf Takaful. This partnership will contribute to enhance the role of the insurance sector in developing a sustainable economy & community".
In addition, Mr. Samy Aziz, Director of Protection Company, said: "It is our pleasure to work with BDB and we also thank the Bank's executives for their trust in Protection Company to manage the health and life insurance programs for the Bank's employees and their families.
We aim to provide the best programs with an emphasis on and not compromising the level of the current coverage but rather maintaining and improving it".
Medgulf Takaful was established in 2007 as an Islamic insurance company and is headquartered in the Kingdom of Bahrain. The company provides various insurance products and services including health insurance, Takaful family insurance and life insurance, pension insurance, savings and educational insurance. In addition to motor and home insurance products and marine insurance and other specialized products that meet the needs of individuals & corporates.
Protection Insurance Services is a Bahraini company established in 1996 that offers innovative solutions for all types of insurance for individuals and corporates. It is also the first insurance brokerage firm in Bahrain to offer an application on smartphones that enables individuals to purchase automotive, travel, home and domestic helpers insurance completely electronically.
Through this partnership, Bahrain Development Bank looks forward to enhancing the healthcare of its employees providing a healthier and more productive workplace environment.