Bahrain Development Bank (BDB) Group was the Event Partner of the MENA Angel Investors Summit 2019 which was organized by Tenmou – Bahrain's first Business Angels Company. The summit, part of the Global Entrepreneurship Week (GEW), aimed at providing a platform to empower and connect local and regional startups with investors across the MENA region.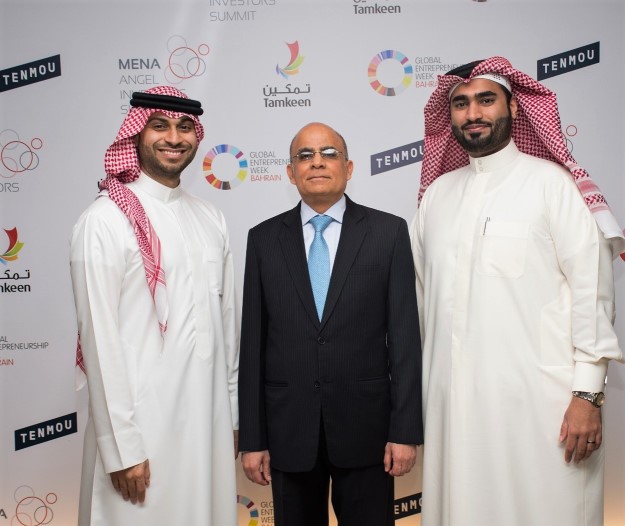 This year, the summit introduced 29 of the best startups from Bahrain and the MENA region innovating in various industries ranging from health-tech and fin-tech to education and logistics. The main topics discussed during the summit were: Introduction to being a Business Angel, Investors Education, Forming a Business Angels Network, Outlook and cultural insight from local Business Angels and Opportunities to fund start-up companies. The program also featured a pitch presentation from Tenmou funded companies and a pitch presentation from high-potential MENA Entrepreneurs looking for funding.
Present from BDB Group were the Chief Executive Officer Mr. Sanjeev Paul, Bahrain Business Incubator Company's Chairman and Managing Director Shaikh Hesham bin Mohammed Al Khalifa and BDB's Head of Investment Division Mr. Isa Ahmed Al Doseri.
Mr. Paul stated, "The summit is another example of continued collaboration in our eco-system. The event is a great opportunity for startups, SMEs, and investors to connect and learn from each other's experiences. "BDB has 19.9% shares in Tenmou, and it is considered one of our fast growing portfolio companies. The bank has supported the summit last year as well with financial sponsorship in addition to the participation in the panel discussion." Mr. Paul said BDB was playing a vital role in supporting young entrepreneurs through its financial and non-financial services. "I believe that BDB is more than just a bank. We are the only institution in the Kingdom that caters for startups and Small and Medium Enterprises, through their life cycle."