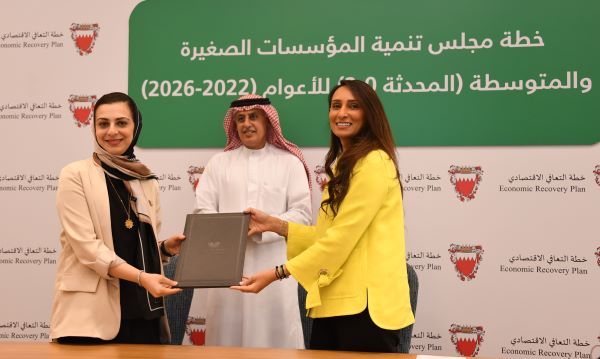 Export Bahrain and Bahrain Development Bank (BDB) have signed a Memorandum of Understanding (MoU) to provide further options and support in Export Financing services to Bahrain-based businesses. The signing ceremony took place at the inauguration of the SMEs Development Board Strategy (2022-2026) in the presence of Industry and Commerce Minister and SME Development Board Chairman Zayed Alzayani, which was signed by Export Bahrain Chief Executive Officer Safa Sharif Abdulkhaliq and BDB Group Chief Executive Officer Dalal Al Qias.
This agreement intends to boost the international growth of Bahrain based business in their export journey by providing Export Bahrain customers with preferential rates in obtaining financial support to aid their exporting endeavors. The provision of Export Financing is an important spectrum of trade finance as it provides exporters with the necessary support to improve their production and delivery lines as well as to be competitive in international markets.
The new partnership between Export Bahrain and Bahrain Development Bank is the latest addition to the Export Financing solution provided by Export Bahrain, which aims to provide short-term financing and capital requirements for businesses to capture international business opportunities and global growth by bridging the export financing gap for viable enterprises through facilitating access to financing at a low cost, and to provide access to liquidity that cover the input cost to processing export transactions.
Commenting on the occasion, Export Bahrain Chief Executive, Ms. Safa Sharif Abdulkhaliq stated: "Export Bahrain's vision and efforts are geared towards establishing exclusive partnerships to ease and find solutions to the different challenges that Bahrain-based businesses may encounter during their export journey. Hence, through this new partnership with the Bahrain Development Bank, and by enhancing our Export Financing solution, we are confident that exporters would reap the benefits of this strategic agreement by providing them with the necessary and proper channels to access supply chain financing to capture more global trade opportunities."
Bahrain Development Bank Group Chief Executive Officer, Ms. Dalal Al Qais added: "Supporting the global expansion and international growth of Bahrain-based SMEs is a primary objective at the Bahrain Development Bank. Our aim is to extend our key products and services to SMEs from all various sectors at a preferential rate to support their export journey. We look forward to this new strategic partnership with Export Bahrain to enable SMEs access to global markets through providing the supply chain financing solutions that the SMEs need to fulfil their export procedures and deals."
Since its inception, Export Bahrain has successfully facilitated the exports of 59 products and services categories across 11 different sectors valued at over 184M USD to 60 international markets that include the GCC region, Asia, Africa, Europe, Australia, the United Kingdom, and the United States.