The CEO of Bahrain Development Bank Group (BDB), Mr. Sanjeev Paul, recognizes Mr. Abdullah Isa Qudrat, Manager – Administration Department, for volunteering in the Kingdom's Public Awareness Campaign to Combat the Coronavirus (COVID-19), as well as for his efforts to ensure that all precautionary health and social distancing guidelines are applied and followed in the BDB Group.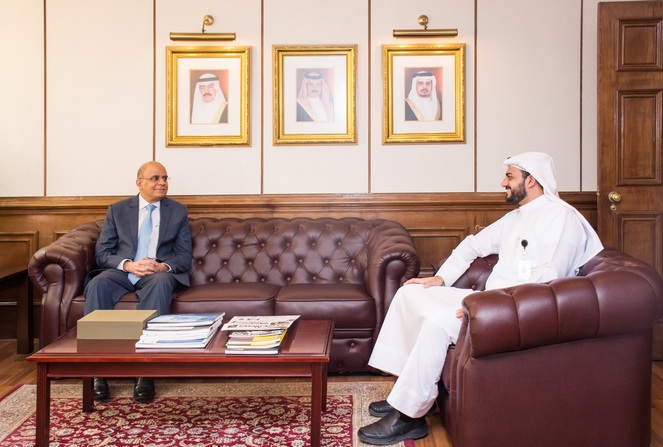 Mr. Paul expressed his gratitude for having a member of the BDB family as part of this national initiative. He stressed the importance of one's social responsibility during these exceptional times, where we all need to work together both as individuals and corporations, to support the efforts of the national authorities to help revitalize the nation and the economy.
Mr. Paul highlighted that beyond the wide range of support offered by the Bank for SMEs in the Kingdom, it has, at its core, a strong emphasis on corporate social responsibility as reflected through the encouragement of all employees to engage in community initiatives. Mr. Qudrat's efforts portray a clear reflection of the groups' social responsibility objectives which fosters the entrepreneurial spirit and enthusiasm of Bahrain's youth in engaging and volunteering in such initiatives.
Mr. Qudrat has been engaged with the national team since March 2020, after receiving the appropriate training from the civil defense to participate in the campaign to sterilize public and private facilities and departments.
He played a significant role within the BDB, to implement precautionary health and social distancing guidelines and has continued to stay in regular contact with relevant health and public authorities to ensure the Bank's health and safety practices are up-to-date and implemented within all premises.