BDB held a special event to acknowledge and honor the achievements of the women workforce across all its branches.
The aim of the event, marking Bahraini Women's Day celebrations, was to express gratitude and appreciation to women's accomplishment in all work levels. The progress of Bahraini women leads to the development and advancement of their workplace and their country.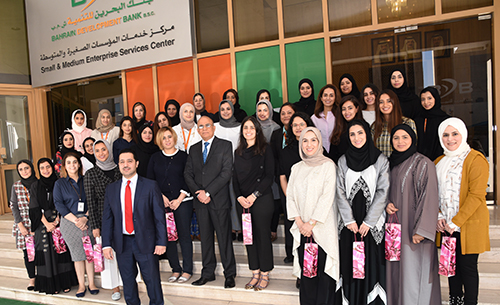 This year's theme of the Bahraini Women's Day 2018 is devoted to honoring women in the legislative field and municipal work which was chosen to celebrate 20 years since Bahraini women entered the appointed Shura Council, and 15 years after their access to the elected representatives council and municipal councils. This year's theme reflects the great achievements attained by Bahraini women through their effective presence in the legislative and municipal councils as well as their ability to enhance their contributions to public affairs and be involved effectively in political work.
BDB's Group Chief Executive Officer Sanjeev Paul reaffirmed the strong role of HRH Princess Sabeekabint Ibrahim Al Khalifa's directives in terms of implementing the concept of "equal opportunities" in accordance with the Kingdom's constitutional principles to ensure the presence and participation of women in the public arena, guaranteeing their rights and family status in order to support them to accomplish their national duties with confidence and competence.
Mr. Paul also added: "In BDB Group, we pride ourselves on the fact that we have many visible achievements when it comes to acknowledging the importance of the role Bahraini women play in the work field and proving that the presence and participation of women is deep-rooted, and its development is inevitable and is nurtured by the cooperation of official and civil entities. In this regard, 45% of the bank's workforce comprises of women. We also have Bahrain Women Incubator Centre (Riyadat) which is one of the initiatives that was launched through a joint cooperation with SWC with the aim to develop women's economic projects and provide new job opportunities through reinforcing establishing projects in the business management field."
Also, as part of its efforts to support and develop Bahraini women projects and encourage female entrepreneurs in the kingdom, BDB in partnership with Tamkeen launched a $100m financing portfolio dedicated to support and develop Bahraini women businesses to realize common objectives that strengthen the position of women as partners in Bahrain's prosperous economic development.