Bahrain Development Bank (BDB) Group Chief Executive Officer Sanjeev Paul participated in the MENA Angel Investors Summit 2018 which wasorganized by Tenmou.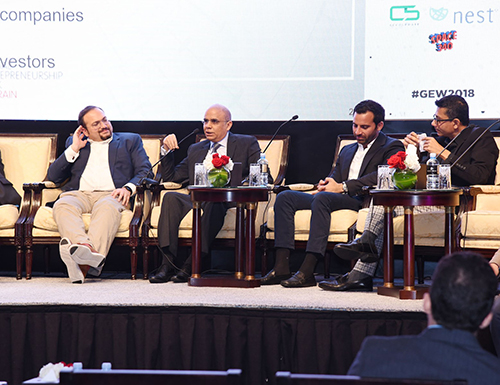 Mr. Paul who was a key speaker and a panelist at the event briefed the audience on BDB's role in supporting the young entrepreneurs and the financial and non-financial services offered by the bank.
"Bahrain is leading the way in supporting entrepreneurship through the progressive thinking of its leadership and institutions like Tamkeen and EDB and many more. I truly believe that BDB is more than just a bank. We are the only institution in the Kingdom that genuinely caters for start-ups and Small and Medium Enterprises. In addition to funding start-ups, we also run a unique development service program called "Rowad" wherein we support entrepreneurs in improving their business skills and mechanisms through mentoring, training, incubation, funding, partnership and providing them with a network of investors." Mr. Paul stated that BDB also runs a pioneering accelerator program called the "Seed Fuel" wherein the bank invests up to BD25,000 of seed capital in a start-up enterprise.
"We have financed seven start-ups in the last 18 months and I am very pleased that three of our start-up investments have received further funding – two from Flat6Labs and one from a Saudi Arabian investor," he added.
"We also launched Al Waha Fund of Funds which has successfully closed its $100m fundraising round, with approximately one third already in the process of being allocated – making it the first active venture capital fund of funds in the region.
"The initiative is an important milestone for the region's growing start-up ecosystem. It will provide additional capital to innovative and technology-driven startups inBahrain and across the Middle East through venture capital funds currently established in Bahrain, and by attracting new funds in the region." Mr. Paul said Invested forum was another initiative created by the bank.
"Invested is a platform that BDB has created to bring investors and investees under one roof. The bank has now over 250 partners who are potential investors in start-ups and enterprises."
BDB was the Event Partner of the summit which was held as part of the Global Entrepreneurship Week (GEW).
The summit was aimed at providing a platform to empower and connect local and regional start-ups with investors across the MENA region.
This year's theme focused on educating investors on how to invest in start-ups, connecting start-ups with Family offices, banks and law facilitators, learning and interacting with the start-up ecosystem.
BDB also hosted a specialized workshop for entrepreneurs and SMEs focused on marketing, business model development, and perfecting your pitch before they pitch to investors.
BDB Senior Vice President and Head of Development Services Areije Al Shakar commented: "The MENA Angel Investors Summit is another example of continued collaboration in our eco-system. A great opportunity for startups, SMEs, and investors to connect and learn from specialized workshops hosted during the day by BDB and Tenmou."